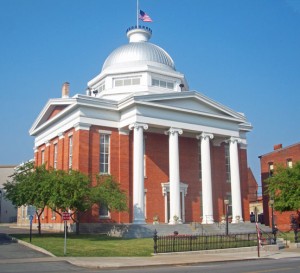 The Town of Lyons is located on the banks of the historic Erie Canal, in the Upstate New York County of Wayne. With the intersection of New York State Routes 14 and 31 intersecting in it's village and easy access to the New York State Thruway, Lyons is home to several multi-national companies and a top-tier school district. Just under 4,000 people call the Village of Lyons home, and the surrounding township is home to just under 6,000. Lyons is the county seat of Wayne County, and as a result, the Department protects several million dollars worth of government property, including the Wayne County Emergency Communications Department, the Wayne County Jail and Courthouse facilities.
Currently, the Lyons Fire Department is the only department in the county with a paid fire driver on duty 24 hours a day, 7 days a week, 365 days a year. The department is comprised of one full time employee, seven part-time employees, and 34 active volunteers, all of whom are trained at the highest standards. Each year, the Lyons Fire Department responds to over 400 calls for service with one or more of our 5 Trucks and 2 rescue boats. The department proudly provides mutual aid assistance to neighboring departments.
In 1831, the Lyons Fire Department was organized to: save lives, suppress and control fires, provide emergency medical services on a first response basis, provide fire prevention education and activities, hazardous materials response, water/ice rescue, confined space rescue, mutual aid to surrounding communities, public assistance during natural emergencies, and other activities as deemed in the best interest of the fire department or citizens of our community.